Category:
Projects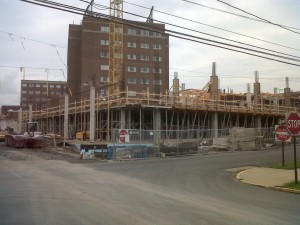 Layton Construction's Healthcare Construction Group broke ground on Oct. 29, 2010 on a $53 million expansion project at Wilkes-Barre General Hospital in Wilkes-Barre, Pa. that includes construction of a new emergency room and heart center. The project will be the largest capital improvement project in Wilkes-Barre's history.
The new 30,000-square-foot emergency department will be more than twice the size of the current one. Additionally, the new Heart and Vascular Institute Tower will greatly expand the cardiac care offerings currently available at the hospital. The new building will feature private rooms and state-of-the-art technology and equipment.
Cavanaugh Electrical was awarded the electrical contract to construct the Support Services Building at Penn State University Hershey Medical Center. Electrical scope includes: temporary power, medium voltage service & distribution, site utilities, site lighting, lighting and power distribution, tele/data, fire alarm, security, and dock & door controls.
       Cavanaugh Electrical is currently completing a renovation project for German Auto Manufacturing Company AUDI at their Larksville, PA location. The scope of words includes new distribution both power and lighting, fire alarm, expanded showroom design, as well as modifcation & renovations to existing facility.