Technical Services
Our technical service department focuses on minimizing both unexpected power outages and potential fire hazards for our clients' facilities. We conduct extensive tests and provide detailed reports that show levels of contamination and/or problem areas which could be safety hazards and costly business disruptions
1.      Electrical Preventative Maintenance / Service – Electrical Preventative Maintenance is the best solution and most cost efficient protection against power quality problems and even sudden power outages.
a.     Power Quality Inspections – Use of calibrated tools with software generated reports
                                                              i.      Reliable Power Meter (RPM) – Portable Power Recorder records and analyzes many power measurements all at one time and can be placed for portable or permanent power studies. It measures RMS, consumption, and power disturbances on every cycle.
                                                            ii.      Megger Testing – Meg Ohm Meter is a digital insulation tester that can test switchgear, generators, motors, and cables. Based on Table 10.1 of NEFA.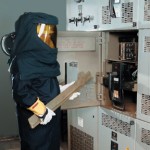 iii.      Fluke 43B Power Quality Analyzer – Used to troubleshoot power problems, diagnose equipment problems and failures, and maintain your power system.
                                                           iv.      Ground Conductor Testing – Used to measure electrical ground rod and grid resistance, resistance and continuity around buildings, and leakage of current flowing to ground.
                                                             v.       Certifications – Harmonics Identification & Mitigation by Harmonics Limited and Power Quality Certification
b.     Infrared Thermography – Thermal imaging helps detect problem areas before they become large problems. Hot spots can be detected and corrected and prevent costly equipment repairs.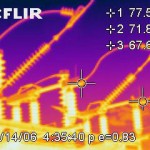 i.      Thermal Camera – Allows you to measure the temperature of an object without putting yourself in danger.  Using high resolution cameras provides clear accurate images with superior detail.
1.      Using IR cameras reduce your costs fast by reducing power consumption, machinery breakdown, rework, overtime, injuries, and so on.
                                                            ii.      Certifications: ASNT Thermal Infrared Level 2 & NEC Code Change Conference 2008
c.     Ultrasonic Testing – used to create efficient maintenance testing by being able to test any operating equipment by using frequency tuning (reduce background noise) and meter mode (real time data that detects leakages problems and mechanical analysis).
                                                               i.      Ultrasonic Probe – using ultrasonic frequencies to test contact applications like gear boxes, bearings, valves, motors, underground leakage, etc.  Also can test airborne applications like pressure leaks, electrical arc, substations, junction boxes, value leaks, etc.
                                                             ii.      Certification – Ultrasonic Level 1 UE systems
d.      Transformer /Oil Testing Services –  We work with a third party and are able to extract the samples and send them on for further analysis and provide you with a detail report of findings.
                                                               i.      Types of diagnostics conducted are:
1.       Oil circuit breaker
2.       Regulator
3.       Transformer
4.       Load tap charger
5.       Sulfur hexafluoride
                                                             ii.      Other tests conducted are:
1.       Insulation and materials
2.       Pump and lubricating
3.       Waste oil disposal
4.       Transformer oil refill/removal
5.       Bushing repair/replacement
2.      PLC / Motor Controls
                                                               i.      ABB Variable Frequency Drive Training
                                                             ii.      Rockwell Automation Intelligent Motor Control
3.      Daktronics
                                                               i.      Sports Products Service
                                                             ii.      Galaxy Service
                                                            iii.      Prostar Service
Please contact Cavanaugh Service Department for further information on specific tests, methods, and standards used