Building Information Modeling
Cavanaugh Electrical Contracting, Inc. provides all in-house Building Information Modeling (BIM) services. 
These services are utilized to virtually plan our projects, reduce field design and layout time, avoid costly coordination conflicts with other building trades, and plan for labor and material procurement in a more precise manner. 
Our philosophy is to utilize our BIM expertise to provide innovative solutions to our customers.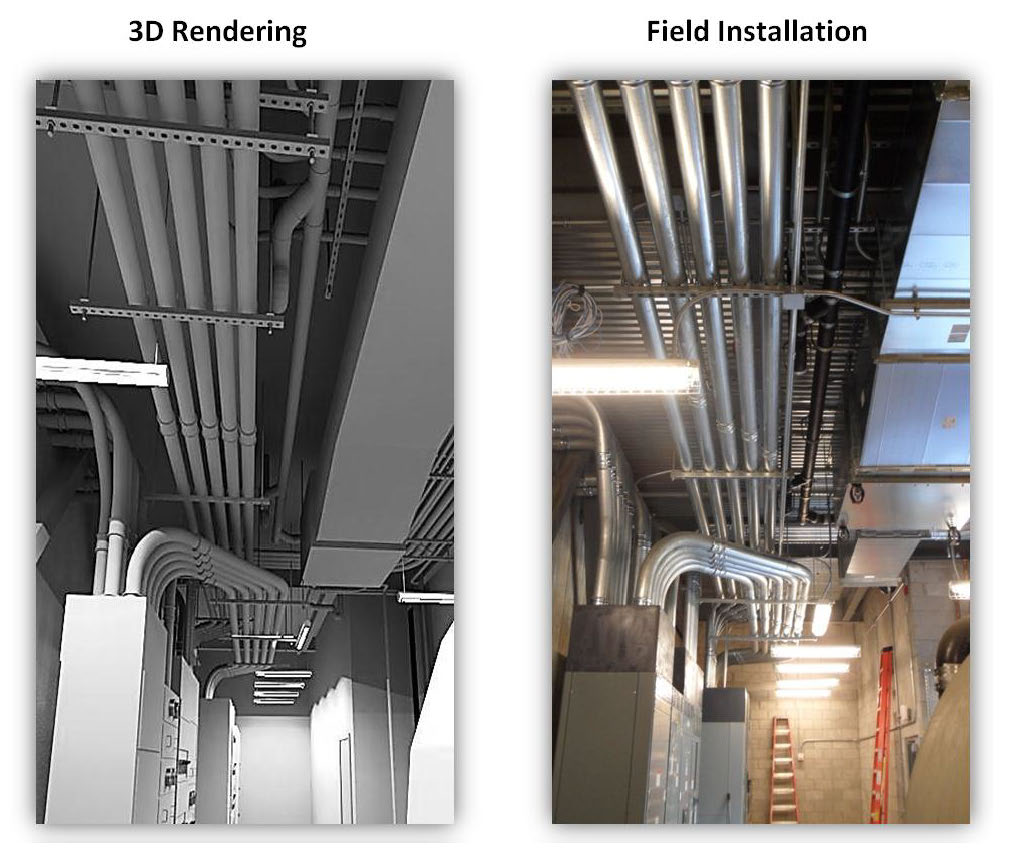 Our BIM Team
We currently employ two full-time team members who have extensive experience with multiple software platforms along with an understanding of the building systems. Our firm has utilized our in-house BIM services for the past three years.

Hardware
Our current system hardware features the most innovative workstations technology available today:
–          Microsoft Windows 7
–          Sixty-four bit platforms
–          iPads for office and job-site use
–          Internal Gigabit Local Network
–          Secure FTP and Web Access
–         
In-house plotters, copiers & scanners for all document sizes
Recently CEC has adapted the use of iPads as one of our newest innovative tools for BIM success.  By utilizing iPads on the jobsite our designers and foreman are able to mark-up drawings, take pictures and view virtual 3D models all while instantly sending information back to our in-house BIM team via e-mail or a virtual cloud system.

Software
Our BIM team provides three-dimensional coordination modeling, construction drawings with electrical room layouts, floor penetrations and conduit run details along with prefabrication schedules and close-out as-built drawings by using the most current software available.  This software includes:
–          Autodesk AutoCAD MEP 2012 & 2013
–          Autodesk Revit MEP 2012 & 2013
–          Autodesk Design Review for PC & iPad
–          Autodesk Inventor 2012
–          Autodesk Cloud for PC & iPad
–          Navisworks Manage 2012
–          Bluebeam eXtreme (CAD)
–          iAnnotate for iPad
–         
ShareFile for PC & iPad
3D Renderings & Installation
By constructing 3D renderings of our electrical layouts, we are able to help the installer and the owner gain a better visual concept of what our design intent is. This not only aids the foreman in producing a more accurate installation, but it also helps the owner see what the final product will be.