Arc Flash Hazard Analysis

What is Arc Flash?
Arc Flash is a phenomenon where a flashover of electric current leaves its intended path and travels through the air from one conductor to another, or to ground. The results are often violent and when a human is in close proximity to the arc flash, serious injury and even death can occur
What are Effects of Arc Flash?
Burns from intense heat (upwards of 35,000 degrees Farenheit)

Trauma from blast pressure (upwards of 2,000lbs per sq. ft.)

Toxic gases from vaporized metals

Sprayed molten metal droplets

Hearing damage from sound pressure wave (noise can reach 140dB – loud as a gun)

Eye Damage

Fire (could spread rapidly through building)
What is an Arc Flash Hazard Analysis?
An Arc Flash Hazard Analysis is a program instituted into a company's overall safety program for compliance to Arc Flash Mandates set forth by NFPA 70E and National Electrical Code (NEC). These mandates are enforced by OSHA; compliance & enforcement of the program will improve personnel safety, increase profitablilty, minimize employee risk to workplace injuries as well as compliance with NFPA, NEC and OSHA mandates.
Cavanaugh Electrical will have our trained technical staff complete a full & detailed study of the facility, Engineer-stamped updated one-line diagrams, short circuit study and equipment labeling per requirements. Your facility will be provided with a detailed report to define and assist in identifying potential issues in your facility and ensure compliance with NFPA 70E & NEC guidelines.
What are the Benefits of completing an Arc Flash Hazard Analysis?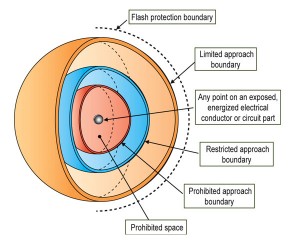 Compliance with NFPA 70E standards & National Electrical Code (NEC)

Protect employee safety and increase awareness of potential risk

Reduce liability associated with lost production due to injuries

Increase reliability of your electrical system

Instill company's focus on the value of their employees with regards to safety in the workplace

Limit potential fines and litigation

Create documentation of compliance

Understanding NFPA 70E requirements for Shock Approach & Flash Protection Boundaries

Equipment and Panel Labeling per OSHA & ANSI requir

ements
Is Your Facility in Compliance to the NFPA 70E Requirements?
The NFPA 70E: Standard for Electrical Safety in the Workplace® specifically addresses how to deal with arc flash hazards. Article 130.3 states, "A flash hazard analysis shall be done in order to protect personnel from the possibility of being injured by an arc flash. The analysis shall determine the Flash Protection Boundary and the personal protective equipment that people within the Flash Protection Boundary shall use… It shall be reviewed periodically, not to exceed five years, to account for changes in the electrical distribution system that could affect the results of the arc flash hazard analysis." Article 130.3(c) states "Equipment shall be field marked with a label containing the available incident energy or required level of PPE
The National Electrical Code also addresses arc flash protection. NEC Article 110.16 states"Flash Protection. Switchboards, panelboards, and motor control centers in other than dwelling occupancies, that are likely to require examination, adjustment, servicing, or maintenance while energized, shall be field marked to warn qualified persons of potential electric arc-flash hazards. The marking shall be located so as to be clearly visible to qualified persons before examination, adjustment, servicing, or maintenance of the equipment."
The National Electrical Safety Code even sets a deadline for utilities to perform their arc flash studies. NESC, Section 41.410.A.3 (page 246) states "Effective as of January 1, 2009, the employer shall ensure that an assessment is performed to determine potential exposure to an electric arc for employees who work on or near energized parts or equipment. If the assessment determines a potential employee exposure greater than 2 cal/cm2 exists…, the employer shall require employees to wear clothing or a clothing system that has an effective arc rating not less than the anticipated level of arc energy."
What's the Next Step?
Please contact us to arrange schedule an on-site visit & review your current system. This is a great opportunity to review our Arc Flash Hazard Analysis program and design a custom proposal based on your needs. We'd be pleased to go over the process with you.
To schedule an appointment, please contact either:
Ray Kruk
PM/Technical Services Field Sales Representative
(P) 570-760-7589
Email: raykruk@cavelect.com
Aaron Szura
Technical Services Manager
(P) 570-332-9319
Email: aaron@cavelect.com